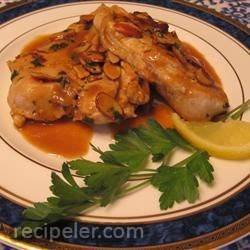 Categories / Meat And Poultry / Chicken / Chicken Breasts / Pan-Fried
Ingredients
Directions
Combine the lemon juice, mustard, garlic and white pepper. Beat in 5 tablespoons of the olive oil. Put the chicken in a shallow container and pour the lemon mixture over it. Cover and refrigerate for at least 1 hour.
In a large skillet, saute the almonds in 1/2 tablespoon of the olive oil until golden. Remove from skillet and reserve. Wipe out the skillet. Drain the chicken, reserving the lemon marinade. Add remaining 1 tablespoon olive oil to skillet, then add chicken breasts and brown over high heat until breast is brown on each side (6 to 10 minutes). Remove from skillet and reserve.
Strain the lemon marinade into the skillet. Bring to a boil and boil for 1 minute. Add chicken broth and cornstarch/water mixture. Cook over high heat, stirring occasionally, until the mixture reduces by half (about 5 minutes). Add marmalade and stir over medium heat until melted. Stir in the butter a bit at a time over high heat, stirring constantly. Stir in parsley and red pepper flakes. Return chicken to skillet and heat through. Add reserved almonds and garnish with lemon slices.
No Ratings Yet
You may also like
Add Review