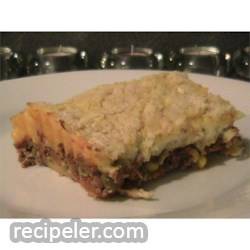 Categories / Main Dish / Savory Pies / Beef Pie
Ingredients
Directions
Preheat oven to 400 degrees F (200 degrees C).
Crumble ground beef into a large skillet. Saute over medium heat 1 minute, then add onion and green pepper. Continue to saute until onion begins to brown, about 5 minutes. Mix in 1/2 cup tomato sauce, bread crumbs, and seasoning salt. Spoon mixture into pastry shell.
In a medium bowl, mix together cheese, egg, milk, Worcestershire sauce, and white pepper. Spread mixture over meat filling. Cover edges of crust with strips of aluminum foil.
Bake in preheated oven for 15 minutes. Remove foil and bake an additional 15 minutes, until topping is puffy and lightly browned. Allow to set 10 to 15 minutes before serving. Make garnish sauce by mixing together 1/2 cup tomato sauce and cocktail sauce. Garnish each slice of pie with a spoonful of sauce.
No Ratings Yet
You may also like
Add Review