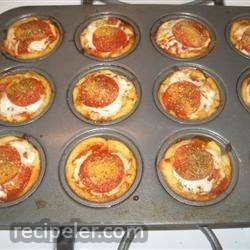 Ingredients
Directions
Preheat oven to 375 degrees F (190 degrees C). Place ground beef in a large, deep skillet. Cook over medium high heat until evenly brown. Reduce heat to medium. Drain excess fat. Stir in pepperoni, pizza sauce and feta cheese. Season with Worcestershire sauce, hot pepper sauce, salt and pepper. Continue cooking for 1 minute, stirring constantly.
Lightly coat a cookie sheet with cooking spray. Separate biscuits and place on cookie sheet at least 3 inches apart. With bottom of a glass, press each biscuit to form a 4 inch round biscuit with 1/2 inch rim around the outside edge. Beat together egg yolk and 1/4 tsp water. Brush sides and edges of biscuits with egg mixture.
Spoon about 1/4 cup beef mixture into each biscuit cup. Sprinkle with mozzarella cheese.
Bake in preheated oven for 15 to 20 minutes, or until biscuits are golden brown, and cheese is bubbly. Allow to cool for 2 minutes before serving.
5
average vote /
1
people vote.
You may also like
Add Review