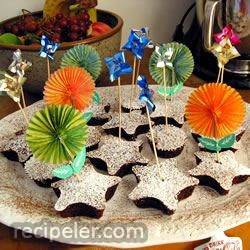 Ingredients
Directions
Preheat oven to 350 degrees F (175 degrees C). Grease an 8 inch square baking pan.
Sprinkle pecans on cookie sheet and toast in oven until lightly colored. Set aside to cool.
In saucepan over low heat, melt unsweetened chocolate and butter, stirring occasionally. Let cool.
In a large mixing bowl, beat the eggs, sugar and vanilla. Fold in the melted chocolate. Sift together the flour, and salt and add to mixture, stirring lightly. Chop the semisweet chocolate into coarse chunks and add to mixture, along with pecans. Mix until just blended. Pour batter into pan and smooth top.
Bake about 25 minutes. Let cool before cutting into bars.
No Ratings Yet
You may also like
Add Review