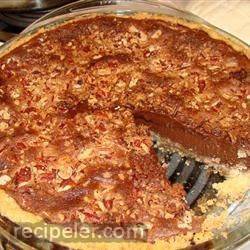 Ingredients
Directions
Preheat oven to 350 degrees F (175 degrees C).
Place margarine in a small glass bowl and melt in microwave for 45 seconds, or until liquid. Set aside to cool. In a large mixing bowl, beat together eggs, sugar, cooled margarine, and vanilla extract.
In a small bowl, sift together flour, cornstarch, and cocoa powder. Stir into egg mixture until smooth. Mix in evaporated milk, stirring until all ingredients are thoroughly combined. Pour half of mixture into each pastry shell. Sprinkle each with 1 cup chopped walnuts.
Bake in preheated oven for 40 to 45 minutes, until set in center. Allow to cool. Chill at least 4 hours before serving.
No Ratings Yet
You may also like
Add Review