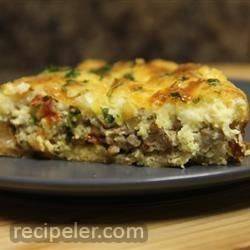 Ingredients
Directions
Preheat an oven to 425 degrees F (220 degrees C). Line pie pan with pie crust, and prick several places with a fork. Place a double layer of aluminum foil over the crust. Bake in the preheated oven for 8 minutes, and then remove foil. Continue baking until crust begins to set, about 5 minutes; remove from oven. Reduce oven temperature to 350 degrees F (175 degrees C).
In a large skillet, cook sausage until well browned, stirring frequently. Mix in shallots and garlic, and continue cooking for 1 minute. Stir in sun-dried tomatoes and 1 tablespoon parsley. Spread mixture into the bottom of the warm pie crust.
In a mixing bowl, beat eggs with cream. Stir in cheese. Pour mixture over sausage in pie crust. Sprinkle remaining parsley over the top.
Bake in preheated oven until crust browns and a knife inserted in the center comes out clean, about 45 to 60 minutes.
No Ratings Yet
You may also like
Add Review