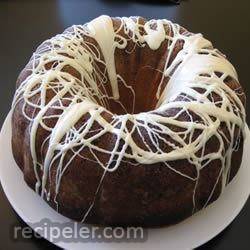 Ingredients
Directions
Preheat oven to 350 degrees (175 degrees C). Grease one 10 inch bundt pan. Sprinkle 2 tablespoons of white sugar in the bundt pan.
Chop four squares of the white chocolate and melted 4 of the others. Set aside.
In a mixing bowl, cream butter and 2 cups of the sugar until light and fluffy, about 5 minutes. Add eggs, one at a time, beating well after each addition. Stir in extracts and the melted white chocolate.
Combine flour, baking powder, salt and baking soda; add to the creamed mixture alternately with the sour cream. Beat just until combined.
Pour 1/3 of the batter into the prepared pan and sprinkle with 1/2 of the chopped white chocolate. Repeat. Pour remaining batter on top.
Bake at 350 degrees F (175 degrees C) for 55 to 60 minutes or until a knife inserted near the center comes out clean. Melt chocolate in the top of two double boilers or in bowls in the microwave. Stir until smooth. Set aside to cool.
Let cake cool in pan for 10 minutes then remove from pan and let cool on a wire rack completely. Once cool place cake on a serving dish and drizzle with melted white and semisweet chocolate. Garnish with strawberries, if desired.
No Ratings Yet
You may also like
Add Review