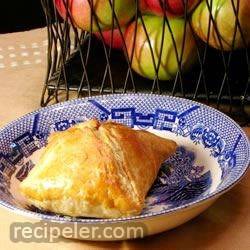 Ingredients
Directions
Preheat oven to 425 degrees F (220 degrees C). Lightly grease a baking sheet.
Roll out each sheet of pastry to measure 12x12 inches. Cut into quarters, to make 8 - 6 inch squares.
In a small bowl, combine sugar, bread crumbs, cinnamon and nutmeg. Brush a pastry square with beaten egg. Place 1 tablespoon bread crumb mixture in center. Place one apple half, core side down, over bread crumbs. Top with another tablespoon of mixture. Pull up four corners of pastry and pinch sides together to seal seams completely. Repeat with remaining apples.
Brush each dumpling with beaten egg. Place in preheated oven for 15 minutes, then reduce heat to 350 degrees F (175 degrees C) and continue baking 25 minutes more, until lightly browned. Let cool completely at room temperature.
To make icing, combine confectioners' sugar and vanilla and enough milk to make a drizzling consistency. Drizzle over cooled dumplings. Serve the same day.
No Ratings Yet
You may also like
Add Review