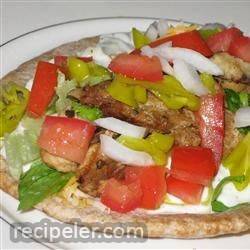 Ingredients
Directions
In a small bowl, mix the balsamic vinaigrette, juice from 1/2 lemon, oregano, and 1/2 teaspoon black pepper. Place chicken in a large resealable plastic bag. Pour marinade over the chicken, seal, and refrigerate for at least 1 hour.
Preheat an outdoor grill for high heat.
Toss the shredded cucumber with 1 teaspoon kosher salt, and allow to sit at least 5 minutes. In a medium bowl, mix the yogurt, sour cream, 1 tablespoon lemon juice, rice vinegar, and olive oil. Season with garlic, fresh dill, and Greek seasoning. Squeeze the cucumber to remove any excess water; stir into sauce. Season to taste with kosher salt and pepper. Refrigerate until ready to use.
Remove chicken from marinade and place on prepared grill. Discard remaining marinade. Cook chicken until juices run clear, about 8 minutes on each side. Remove chicken from heat, and allow to sit about 10 minutes before slicing into thin strips.
Place pita rounds on the grill, and cook for about 2 minutes, until warm, turning frequently to avoid burning. Arrange warmed pita, sliced chicken, lettuce, onion, tomato, olives, and pepperoncini on a serving platter. Serve tzatziki sauce and feta cheese in separate bowls on the side. Stuff pita pockets with chicken and toppings to serve.
No Ratings Yet
You may also like
Add Review