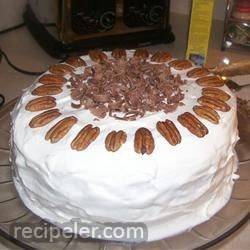 Ingredients
Directions
Preheat oven to 325 degrees F (165 degrees C). In a saucepan, combine the butter or margarine, 1/4 c whipping cream and brown sugar. Cook over low heat until the butter is just melted, stirring occasionally. Pour into two 8 or 9 inch round cake pans. Sprinkle evenly with the chopped pecans.
In a large bowl, combine the cake mix, water, oil and eggs at low speed until moistened. Beat 2 minutes at the highest speed. Carefully spoon the batter over the pecan mixture.
Bake at 325 degrees F (165 degrees C) for 35 to 45 minutes, or until the cake springs back when lightly touched in the center. Cool 5 minutes. Remove from the pans and cool completely.
In a small bowl, beat the 1 3/4 cups whipping cream until soft peaks form. Blend in the confectioners' sugar and vanilla extract. Beat until stiff peaks form.
To assemble the cake, place one layer on a serving plate, praline side up. Spread with half of the whipped cream. Top with the second layer. Frost with the remaining whipped cream.. Store in refrigerator.
4.5
average vote /
2
people vote.
You may also like
Add Review