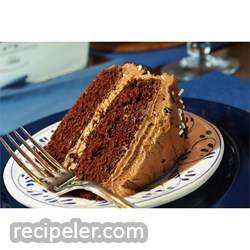 Ingredients
Directions
Preheat oven to 350 degrees F (175 degrees C). Lightly grease and flour one 9x13 inch pan or two 9 inch round pans.
In a small pan melt the butter or margarine with the unsweetened chocolate. Set aside to cool slightly.
Cream together the sugar and the eggs until light in color. Add the chocolate mixture to the eggs and temper mixture by beating well (so you don't end up with scrambled eggs!) Add 1 cup boiled water (still warm) and blend well. Mixture will be very liquid.
Mix together the flour, baking soda, and salt. Add this mixture to the chocolate mixture and blend well.
Mix together the vinegar and the milk and stir into the chocolate batter. Pour into prepared pan(s).
Bake at 350 degrees F (175 degrees C) for 30 minutes or until a toothpick inserted in the center comes out clean. Cake divides well for filling with mousse, or ganache, or black forest fillings. The best clue to this cake being nearly done is that you will start to smell the aroma of chocolate filling your house!
No Ratings Yet
You may also like
Add Review