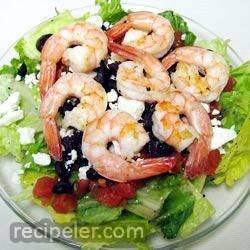 Categories / Salad / Seafood Salad / Shrimp Salad
Ingredients
Directions
Thread shrimp onto metal skewers (or bamboo ones that have been soaked in water for 15 minutes). Brush both sides with oil and season with salt, pepper and a light sprinkling of sugar.
Heat gas grill, with all burners on high, until fully preheated, 10 to 15 minutes. Use a wire brush to clean grill rack, then brush lightly with oil. Close lid and allow to return to temperature. Grill shrimp until fully cooked and spotty brown, about 2 minutes per side.
Meanwhile, mix in a medium bowl the tomatoes, cheese, olives, oregano, 2 Tbs. of the olive oil and 2 tsps. of the vinegar. Unthread shrimp and add to bowl. Lightly toss ingredients to coat. Set aside. (Can be made an hour or so ahead.)
When ready to serve, drizzle remaining oil, as well as a generous sprinkling of salt and pepper, over spinach in a large bowl. Toss to coat. Add remaining 2 tsps. vinegar; toss again. Divide spinach among 4 large plates. Top with a portion of the shrimp mixture.
No Ratings Yet
You may also like
Add Review