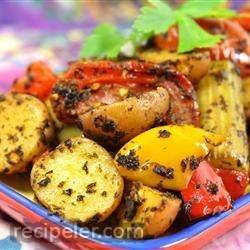 Ingredients
Directions
Preheat oven to 350 degrees F (175 degrees C).
Combine garlic, 1/2 teaspoon salt, paprika, cumin, and cayenne in a food processor bowl. Process until mixture forms a paste. Add herbs, and pulse a few times to blend. Add lemon juice, vinegar, and 2 to 3 tablespoons olive oil; blend. Season to taste with salt.
In a large bowl, combine potatoes, peppers, and celery. Season with salt, and toss with herb sauce. Transfer to a large shallow baking dish. Scatter tomatoes among the potato mixture. Drizzle 1 to 2 tablespoons oil over top, and cover with foil.
Bake for 35 minutes. Remove foil. Continue baking until vegetables are tender, 20 to 30 minutes. Serve warm.
No Ratings Yet
You may also like
Add Review