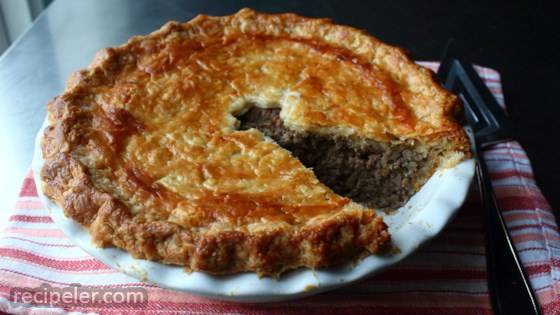 Prep Time: 2 h 15 m
Calories: 663 kcal
Print
Categories / Main Dish / Savory Pies / Pork Pie
Ingredients
Directions
Place flour, salt, and frozen butter slices into the bowl of a food processor. Pulse on and off until butter is about the size of peas, about 30 seconds. Stir vinegar into cold water; drizzle water/vinegar into the flour mixture. Pulse on and off until mixture is crumbly and holds together when you pinch a piece off, about 10 seconds. If dough isn't pressing together, drizzle in another teaspoon of water.
Transfer mixture to a work surface. Press it together until it becomes a lump of dough. Wrap in plastic wrap. Refrigerate until chilled, at least 1 hour.
Mix salt, pepper, thyme, sage, cinnamon, ginger, nutmeg, allspice, mustard, clove, and cayenne together in a small bowl.
Place potato quarters in a saucepan; cover with cold water. Add 1 teaspoon kosher salt. Bring to a boil over high heat; reduce heat. Simmer until cooked through, 10 to 15 minutes. Scoop out potatoes and transfer to a bowl; save cooking liquid. Mash potatoes with a potato masher.
Melt butter in a skillet over medium heat. Add chopped onion and a pinch of salt. Cook and stir until onions turn golden, 10 to 15 minutes.
Stir garlic, celery, and spice blend into the skillet with onions. Stir until onion mixture is evenly coated with the spices, about 30 seconds. Add ground beef and ground pork. Ladle about 3/4 cup of the potato cooking liquid into the skillet.
Cook and stir until meat is browned and has a very fine, almost pastelike texture. Continue cooking, stirring occasionally, until meat is tender and most of the liquid has evaporated, about 45 minutes. Stir in mashed potatoes. Remove from heat and cool to room temperature.
Preheat oven to 375 degrees F (190 degrees C).
Divide chilled dough into 2 pieces, one just slightly larger than the other. Roll the larger piece out into a 12-inch circle on a lightly floured work surface. Place in a 9-inch deep dish pie plate. Roll top crust out into a circle about 11 inches in diameter. Cut small slits in the top crust to allow steam to escape.
Fill bottom crust with the meat mixture; smooth out the surface. Whisk egg and water together to make egg wash. Brush edges of the bottom crust with egg wash. Place top crust on the pie and press lightly around the edges to seal. Trim excess dough from the crust. Crimp the edges of the crust. Brush entire surface of the pie with egg wash.
Place in preheated oven. Bake until well browned, about 1 hour. Let cool to almost room temperature before serving.
No Ratings Yet
You may also like
Add Review