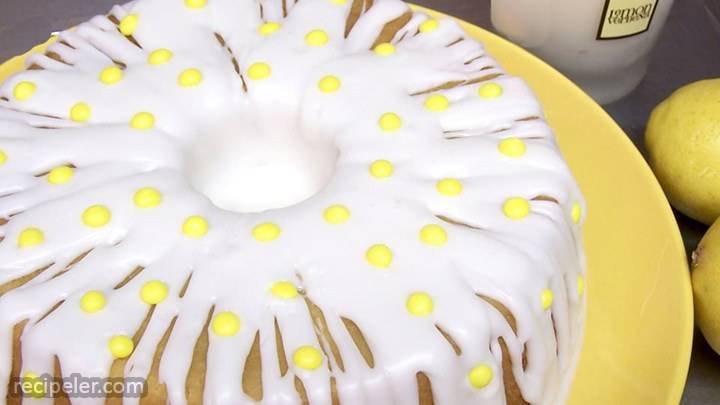 Ingredients
Directions
Preheat oven to 325 degrees F (165 degrees C). Grease and flour a 10 inch Bundt pan. Mix together the flour, baking powder and salt. Set aside.
In a large bowl, cream together the butter and sugar until light and fluffy. Beat in the egg yolks one at a time, then stir in the vanilla and lemon juice. Beat in the flour mixture alternately with the milk, mixing until blended.
Pour batter into prepared pan. Bake in the preheated oven for 60 minutes, or until a toothpick inserted into the center of the cake comes out clean.
To make the hot lemon glaze: In a saucepan, combine 3 cups confectioners' sugar and 1/2 cup lemon juice. Bring mixture to a boil and cook for 1 minute. Keep mixture warm until ready to use.
To make the Icing Glaze: In a small bowl, mix 1/4 cup lemon juice and 1 1/2 cups of confectioners' sugar. If mixture is too thin, add more sugar until desired consistency is reached.
Assemble the cake: Pour 3/4 of hot lemon glaze over warm cake while it's in the pan. Let cake cool for 60 minutes, then remove from pan. Reheat the remaining hot lemon glaze to the boiling point, then brush glaze onto the top and sides with a pastry brush. Using a fork, drizzle Icing Glaze over cake. Refrigerate for at least 2 hours before serving.
No Ratings Yet
You may also like
Add Review