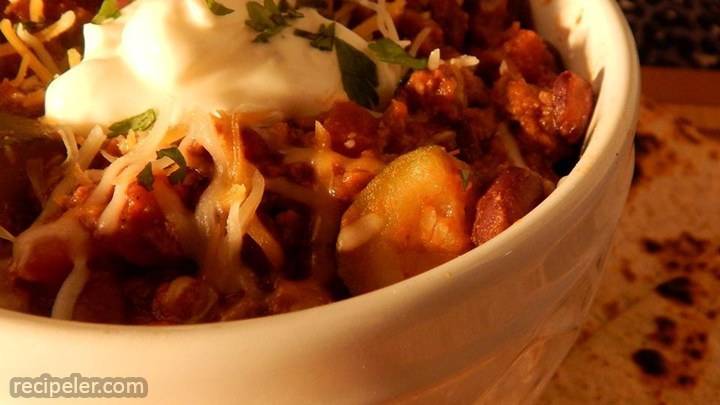 Ingredients
Directions
Soak beans in water overnight. Drain and rinse.
In a large pot, combine beans with water to cover. Bring to a boil, reduce heat, and simmer 1 to 2 hours, until tender. Once the beans have absorbed most of the water, and are starting to soften, season with chile powder, red pepper flakes, jalapeno, salt and pepper. Reserve the seeds.
Heat oil in a large heavy skillet over medium low heat. Saute the onion and bell peppers for 3 minutes. Stir in diced zucchini, diced tomatoes, tomato sauce and salsa. Season with jalapeno seeds and chili sauce, stir well, and leave on medium-low heat.
Place ground buffalo meat in a large, deep skillet. Cook over medium high heat until evenly brown. Drain excess fat. Stir buffalo and vegetable mixture into beans. Continue to simmer for 1 hour.
No Ratings Yet
You may also like
Add Review