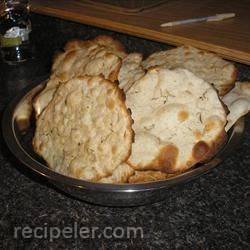 Ingredients
Directions
In a large bowl, stir together the water, whole wheat flour, and yeast until moistened. Mix in the salt and 1 cup of all-purpose flour. Gradually mix in the rest of the flour using a mixer with a dough hook attachment or wooden spoon.
When the dough comes together, knead in your mixer or on a floured surface for 8 to 10 minutes to make an elastic ball. Add more flour or water if needed to keep dough from getting sticky or too stiff. Pour a little bit of oil in the bowl and turn the dough to coat. Cover and let rise in a warm place until doubled in size, about 1 hour.
Punch down the dough and divide into 30 pieces about the size of small walnuts. Rolling the dough into a long log helps to divide it evenly. Roll each piece into a ball and cover with a damp kitchen towel for 30 minutes to rest.
Preheat the oven to 500 degrees F (260 degrees C). Place a baking sheet on the center rack of the oven so it can preheat at the same time. Do not grease.
Roll each ball into a circle about 8 inches across. The dough should be paper thin, almost translucent. If they are too thick, they will bubble up like pita breads.
Pull out the oven shelf and place as many crackers on your baking sheet as you can fit, 2 or 3. Close the oven and bake for about 3 minutes. The crackers should be lightly browned on the top with small bubbles. You may have to adjust your thickness for the next batch.
3
average vote /
2
people vote.
You may also like
Add Review