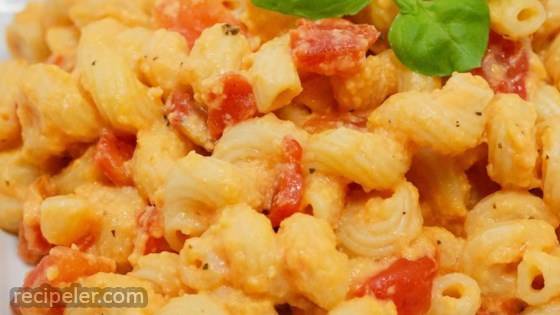 Categories / Pasta And Noodles / Pasta By Shape
Ingredients
Directions
Cook the macaroni according to package directions. Drain.
In a saucepan, melt 2 tablespoons butter or margarine over medium heat. Add onion and garlic, and saute until onions have a rich golden color. Mix in the tomatoes and the spices. Stir in milk and 3/4 cup shredded cheese. Let sauce simmer gently until the cheese is melted, stirring often. Mix in the cooked macaroni.
Transfer macaroni and cheese to an ovenproof pan. Sprinkle with breadcrumbs and 1/4 cup cheese. Dice remaining 2 tablespoons butter or margarine, and spread evenly over the top.
Bake at 350 degrees F (175 degrees C) for about 45 minutes.
No Ratings Yet
You may also like
Add Review