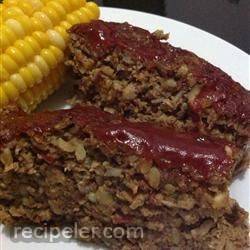 Ingredients
Directions
Preheat oven to 350 degrees F (175 degrees C). Lightly grease a 9x5 inch loaf pan.
Heat the olive oil in a large skillet over medium heat. Stir in the mushrooms, onions, and bell pepper; cook until the onion is transparent, about 5 minutes. Sprinkle sage over the vegetables, and cook until vegetables are soft, about 5 minutes more. Transfer vegetables to a large mixing bowl.
Stir the rice, walnuts, onion soup mix, oat bran, wheat germ, egg whites, Worcestershire sauce, and mustard into the mushroom mixture until thoroughly blended. Spoon into prepared loaf pan, pressing down mixture with a spatula to flatten top.
Bake in preheated oven for 1 hour. Let rest 10 minutes before slicing.
No Ratings Yet
You may also like
Add Review