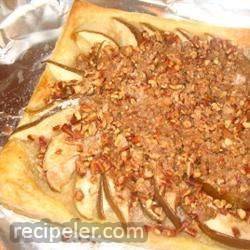 Ingredients
Directions
In a small bowl, mix flour, almonds, 1/2 cup sugar, and cinnamon together. Add chilled butter and vanilla extract. Cut together with a pastry blender until small crumbs form.
Unfold pastry and cut into a 10 inch circle. Place on a large, ungreased baking sheet. Brush with melted butter or margarine. Arrange apples in the center of the pastry, leaving a 1/2 inch wide border of pastry. Spoon almond topping gently over the apples, being careful it doesn't spill over the edges of the pastry.
Bake at 350 degrees F (175 degrees C) for 30 minutes, or until golden brown.
Place egg yolks and 3 tablespoons sugar in the top of a double boiler over simmering water. Beat mixture constantly with a portable electric mixer. When foamy, add the marsala; continue to beat until the mixture begins to thicken. Do not overcook, or the mixture will curdle. Remove from heat. Serve warm over the apple crumble.
No Ratings Yet
You may also like
Add Review