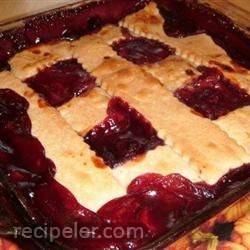 Ingredients
Directions
Preheat an oven to 400 degrees F (200 degrees C).
Whisk 1 cup of flour with the salt in a mixing bowl. Mix in the softened butter until the mixture resembles cornmeal. Stir in the ice water until a dough forms. Refrigerate until ready to use.
Place the berries in a mixing bowl, and sprinkle with 1 1/4 cups sugar and 6 tablespoons of flour. Stir in the water until moistened, and scrape into a 2-quart baking dish. Roll the dough on a floured work surface to 1/4-inch thick, and cut into 3/4-inch strips. Place onto the berries in a crisscross pattern. Scatter the diced butter over top.
Bake in the preheated oven until the berries are tender and the crust is golden brown, about 30 minutes.
No Ratings Yet
You may also like
Add Review