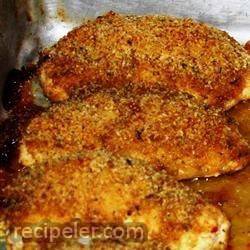 Ingredients
Directions
Place chicken breasts in a large resealable plastic bag. Pour in Italian dressing, seal tightly, and refrigerate at least 1 hour.
Place the stale bread, Parmesan, thyme, and pepper into a food processor. Pulse until the bread is processed into crumbs. Seat aside.
In a large bowl, stir together the feta and sour cream. Set aside.
Heat the oil in a large skillet over medium heat. Stir in the garlic. Then add the spinach, and cook until it wilts. Stir in green onions, cook 2 minutes. Remove spinach to a plate, and leave any liquid in the pan. Stir in mushrooms, and saute until soft. Remove mushrooms to plate with spinach. Allow to cool briefly, then combine spinach and mushrooms with feta and sour cream mixture.
Stir the sun-dried tomatoes into the mixture, and spread onto a large cookie sheet. Place in the freezer for about 30 minutes.
Preheat the oven to 400 degrees F (200 degrees C).
Place chicken breasts on a cookie sheet, and place about 3 tablespoons of the filling mixture in the center of each breast. Roll the breasts, and secure with a toothpick. Transfer chicken breasts to a baking dish, and sprinkle breadcrumb mixture over chicken breasts.
Bake, uncovered, in a preheated oven for 25 minutes.
2.5
average vote /
2
people vote.
You may also like
Add Review