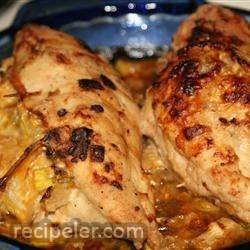 Categories / Meat And Poultry / Chicken / Chicken Breasts
Ingredients
Directions
Preheat oven to 350 degrees F (175 degrees C). Lightly grease a 9x13 inch baking dish.
In a medium skillet, melt butter or margarine. Add the squash, green bell pepper, onion and celery. Saute until slightly tender. Season to taste with salt and pepper. Remove from heat, add cheese and mix together.
Slice chicken breasts on the side about 3/4 of the way through. Stuff mixture evenly into each slit chicken breast until full. Dredge each breast in flour to coat completely, and brown coated chicken in skillet.
Place browned chicken breasts in the prepared baking dish, cover and bake in the preheated oven for about 30 minutes or until chicken is cooked through and juices run clear.
No Ratings Yet
You may also like
Add Review