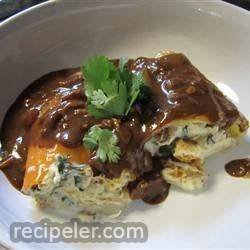 Prep Time: 1 h 40 m
Calories: 768 kcal
Print
Categories / World Cuisine / Latin American / Mexican
Ingredients
Directions
Place the chicken, taco seasoning mix, and water into a resealable plastic zipper bag, seal, and massage the bag with your fingers to mix. Refrigerate for 30 minutes to marinate.
Cut the stem and top 1/2 inch from the top of each pepper, and carefully remove the seeds without cutting holes or breaking skin of the peppers. Bring a large pot of water to boil, and immerse the peppers in the boiling water for 3 minutes; cool immediately in a bowl of cold water. Drain the peppers and set aside.
Heat the vegetable oil in a large saucepan over medium heat; cook and stir the onion until translucent, about 5 minutes. Stir in garlic, oregano, cumin, and cinnamon; cook for 3 minutes. Stir in the flour and chili powder, and cook for about 1 minute. Whisk in the chicken broth, and bring the mixture to a boil, stirring constantly until the sauce thickens, about 5 minutes. Reduce heat to low, and stir in the chocolate until it melts and blends into the sauce. Allow the sauce to gently simmer, stirring occasionally.
Drain the marinated chicken breasts, and place into a skillet over medium heat. Cook until the chicken is no longer pink inside, about 10 minutes; remove chicken to a bowl, and set aside to cool. When cool enough to handle, shred the chicken meat, and lightly mix in a bowl with Monterey Jack cheese, cream cheese, and cilantro. Stuff each pepper with 1/4 of the chicken mixture, and place on a baking sheet.
Preheat the oven's broiler and set the oven rack about 6 inches from the heat source.
Broil the stuffed peppers until blistered and hot, about 4 1/2 minutes per side. Serve with sauce.
No Ratings Yet
You may also like
Add Review