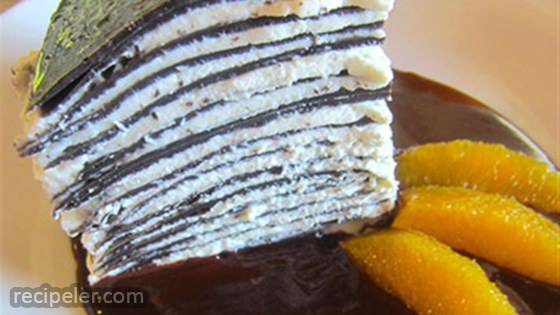 Prep Time: 1 h 15 m
Calories: 1035 kcal
Print
Categories / Trusted Brands: Recipes And Tips / Diamond Crystal Salt
Ingredients
Directions
Mix milk, flour, cocoa powder, confectioners' sugar, eggs, vanilla and Diamond Crystal(R) Kosher Salt in a large mixing bowl until smooth and well blended.
Melt about 1/3 teaspoon of the butter in a small skillet over medium high heat. Add about 1/4 cup of the batter to the skillet; tilt pan with a circular motion to evenly distribute batter. Cook until bubbles appear and the surface looks dull. Turn the crepe and cook on the other side approximately 1 minute. Place crepe on a plate. Repeat for the remaining crepes, separating them with a layer of waxed paper to prevent them from sticking to each other. Batter is enough to make about 16 crepes.
For Chocolate Orange Sauce, place the cream into a medium pan and heat until very warm. Remove pan from heat. Add chocolate and stir until combined and silky. Add orange juice concentrate, vanilla, sugar and Diamond Crystal(R) Kosher Salt; stir until thoroughly mixed.
Whip 2 cups whipping cream in a bowl until stiff.
To assemble the cake, place a crepe on a serving plate. Spread a thin layer of whipped cream onto crepe; top with another crepe. Continue layering whipped cream and crepes, ending with an unfrosted crepe. Refrigerate for 30 minutes to firm up the cake before serving.
To serve, spoon about 4 tablespoons of sauce on a dessert plate in a small circle. Slice cake into wedges. Place a wedge of cake on top of the chocolate orange sauce.
Optional garnishes: Peeled orange sections, mint sprigs, or shaved chocolate.
No Ratings Yet
You may also like
Add Review