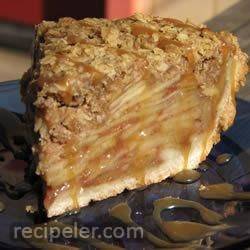 Categories / World Cuisine / European / Dutch
Ingredients
Directions
Preheat oven to 425 degrees F (220 degrees C). Fit pastry shell into pie pan and place in freezer.
To Make Apple Filling: Place apples in a large bowl. In a separate bowl combine 2 tablespoons flour, white sugar, 1/2 teaspoon cinnamon, nutmeg, and allspice. Mix well, then add to apples. Toss until apples are evenly coated.
Remove pie shell from freezer. Place apple mixture in pie shell and dot with 2 tablespoons butter or margarine. Lay a sheet of aluminum foil lightly on top of filling, but do not seal.
Bake in preheated oven for 10 minutes.
While filling is baking, make Streusel Topping: In a medium bowl combine 3/4 cup flour, 1/2 teaspoon cinnamon, brown sugar, oats, and lemon peel. Mix thoroughly, then cut in 1/2 cup butter or margarine until mixture is crumbly. Remove filling from oven and sprinkle streusel on top.
Reduce heat to 375 degrees F (190 degrees C). Bake an additional 30 to 35 minutes, until streusel is browned and apples are tender. Cover loosely with aluminum foil to prevent excess browning.
No Ratings Yet
You may also like
Add Review