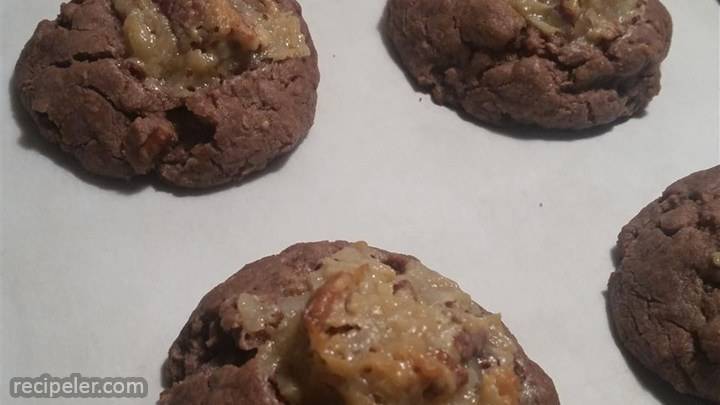 Ingredients
Directions
Preheat oven to 350 degrees F (175 degrees C).
In a heavy 2-quart saucepan, combine sugar, milk, 1/2 cup butter, vanilla and egg yolk. Blend well. Cook over medium heat for 10 to 13 minutes or until thickened and bubbly. Stir frequently. Stir in coconut and pecans. Remove from heat and cool to room temperature.
Reserve 1 1/4 cups of the topping mixture and set aside. In a large bowl, combine cake mix, melted butter and remaining topping mixture. Stir by hand until thoroughly moistened. Shape dough into 1 inch balls. Place 2 inches apart on ungreased cookie sheet. Using your finger, make an indention in center of each ball. Fill each indention with 1/2 teaspoon of reserved topping.
Bake for 10 to 13 minutes in the preheated oven. Allow cookies to cool on baking sheet for 5 minutes before removing to a wire rack to cool completely.
No Ratings Yet
You may also like
Add Review