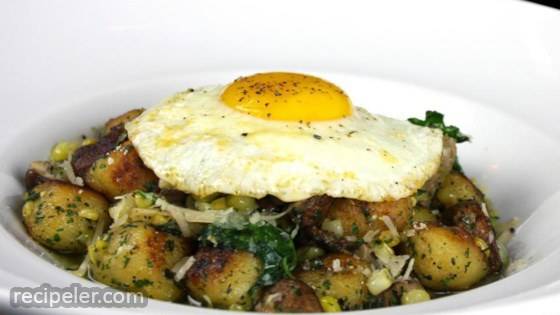 Prep Time: 2 h
Calories: 416 kcal
Print
Categories / Cornbread Stuffing And Dressing
Ingredients
Directions
Boil russet potatoes until tender (about 35 minutes): start with cold water, bring to a boil, and then reduce heat to maintain boil for 30-35 minutes. Cool and then peel.
Mill potatoes in food mill while mixing in flour, salt, and egg. Ingredients can also be mixed together on a pastry board or in a bowl.
Knead gently for about 4 minutes until ball is dry to touch. It may be sticky; apply additional flour to the dough as needed.
Roll ropes out at 3/4" to 1" thickness. Chop into 1-inch rectangles.
Bring a pot of salted water to a boil. Boil gnocchi in 3-4 batches and cook until they float (1-2 minutes).
Once floating, remove with a slotted spoon and shock them in a bath of ice water.
Sautee shallots and garlic in 1 tablespoon of butter in a pan until translucent. Remove with a slotted spoon and reserve.
Saute the gnocchi in the pan with remaining butter until they're golden brown.
Stir in reserved shallots, garlic, pesto and seasoned cooked seasonal vegetables.
Portion into 4-6 bowls and top with a fried egg. Lightly season with salt and pepper.
No Ratings Yet
You may also like
Add Review