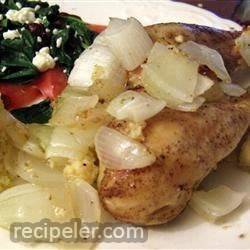 Categories / Meat And Poultry / Chicken / Chicken Legs
Ingredients
Directions
Preheat oven to 375 to 400 degrees F (190 to 200 degrees C).
With a knife make small cuts in the sides of the chicken parts; then season chicken with salt, pepper, herbs and spices to taste.
Cover a cookie sheet with aluminum foil. Place chicken on cookie sheet and cover chicken with more aluminum foil. Pierce foil cover with fork to make many small holes. Bake in the preheated oven for 35 to 40 minutes. Then open foil cover and place onion between chicken pieces and garlic on top. Bake for another 10 minutes and serve. Enjoy!
No Ratings Yet
You may also like
Add Review