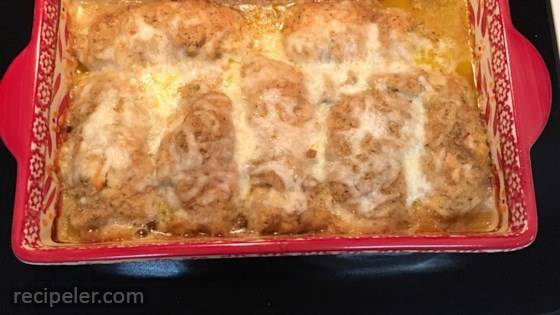 Categories / Meat And Poultry / Chicken / Chicken Breasts
Ingredients
Directions
Preheat oven to 350 degrees F (175 degrees C).
Place chicken breasts between 2 sheets of wax paper. Pound each to 1/4 inch thickness. Spread butter/margarine over the inside, then add salt and pepper to taste.
Place slice of cheese on breast, roll and close with toothpicks. Repeat with each breast. Dip rolled breasts in flour, then egg, then breadcrumbs. Place coated breasts in a lightly greased 9x13 inch baking dish.
To Make Sauce: In a saucepan, melt 1/4 cup butter and add garlic. Add wine and simmer all together. Pour sauce over chicken and bake in the preheated oven for 30 to 45 minutes.
No Ratings Yet
You may also like
Add Review