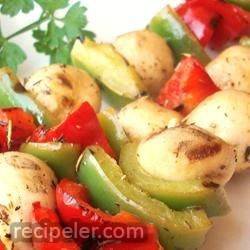 Ingredients
Directions
Preheat grill for medium heat.
Thread mushrooms and peppers alternately on skewers.
In a small bowl, mix together olive oil, lemon juice, garlic, thyme, rosemary, and salt and pepper. Brush mushrooms and peppers with this flavored oil.
Brush grate with oil, and place kabobs on the grill. Baste frequently with oil mixture. Cook for about 4 to 6 minutes, or until mushrooms are tender and thoroughly cooked.
No Ratings Yet
You may also like
Add Review