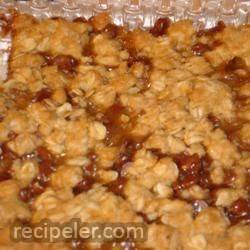 Categories / Desserts / Cookies / Oatmeal Cookies
Ingredients
Directions
Preheat oven to 350 degrees F (180 degrees C).
Peel the plastic wrapping from the caramels and melt them in a saucepan over medium heat along with the milk. ( If using a microwave, use a large, microwave-safe bowl, melt the caramels and milk in the microwave at medium power for 2 to 3 minutes, checking every 20 to 30 seconds.) Stir and set aside.
Melt the margarine and combine with flour, oats, brown sugar, baking soda and salt.
Press slightly more than half the oat mixture into a greased 11 x 7 inch pan. Sprinkle chocolate chips on top of the mixture, then pour the caramel over the chips. Top with remaining oat mixture.
Bake for 20 minutes; cool. Cut into bars.
No Ratings Yet
You may also like
Add Review