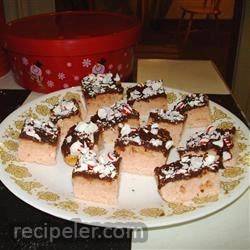 Ingredients
Directions
Preheat oven to 350 degrees F(175 degrees C) and grease a 9 x 13 inch pan.
Cream butter or margarine and sugar. Beat in egg, peppermint extract and food coloring. Add flour and salt till well blended. Stir in 2/3 cup finely crushed candy.
Spread evenly into greased pan. Bake for 25 minutes or until firm.
After removing from oven, immediately sprinkle with chocolate chips. Cover with a cookie sheet for 1 minute or until melted. Spread chocolate evenly and sprinkle with 1/3 cup coarsely chopped candy. Cool completely before cutting. NOTE: You can substitute plain chocolate bars. You'll need 10 - 5/8 oz. bars.
No Ratings Yet
You may also like
Add Review