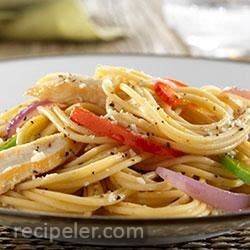 Ingredients
Directions
Bring a large pot of salted water to a boil.
Heat 1 tablespoon olive oil in a saute pan; add garlic and red onion; sweat for 4 minutes.
Add chicken and 1 tablespoon olive oil to a separate pan and cook three-fourths of the way through.
Add the peppers to the onions and saute for 3 minutes.
Add chicken broth and continue cooking until reduced by half.
Cook PLUS(R) Spaghetti according to package directions.
Add the chicken to the pepper and onion mixture; season the mixture with salt and pepper.
Remove pan from the heat and stir in the Romano cheese.
Toss chicken mixture with the cooked PLUS(R) Spaghetti.
No Ratings Yet
You may also like
Add Review