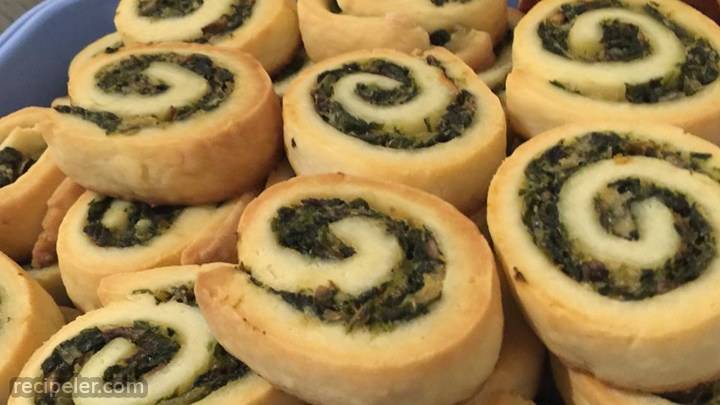 Ingredients
Directions
In a large bowl, beat together cream cheese and 2/3 cup butter. Mix in 2 cups flour, a teaspoon baking powder, 1/2 teaspoon salt, and 1/4 teaspoon baking soda; beat well. Divide dough into two balls; wrap in plastic wrap. Chill 30 to 60 minutes or until pastry is easy to handle.
Preheat oven to 400 degrees F (200 degrees C).
Heat spinach in large frying pan over medium-low heat; drain. Squeeze out excess liquid; set aside.
In a large frying pan, melt the 2 tablespoons butter. Stir in mushrooms and onion. Cook and stir over medium heat for 3 minutes or until onion is tender. Mix in spinach, remaining 1 tablespoon flour, oregano, salt, lemon juice and garlic powder. Cook and stir until mixture thickens. Stir in Parmesan cheese. Set aside to cool.
On floured surface, roll a pastry ball into a 12x7-inch rectangle. Spread with half the spinach mixture to within 1/2 inch of edges. Starting with a short side, roll up dough and filling, jelly-roll style. Moisten edges with water; pinch to seal. Repeat with remaining pastry. Cover; chill 1 hour. Slice logs into 1/2-inch thick slices. Place on ungreased baking sheets.
Bake 20 minutes or until golden. Remove to wire racks; cool.
No Ratings Yet
You may also like
Add Review