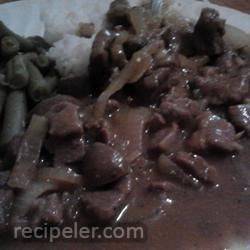 Categories / Main Dish / Savory Pies / Beef Pie
Ingredients
Directions
Cover beef kidney with lightly salted water. Cover, and refrigerate overnight. Drain off water. Cut out tubes and white membrane with scissors. Dice meat
In a stew pot, brown kidney and steak in hot fat. Add onions, seasonings, and 1 1/2 cups water. Simmer until meat is almost tender, about 1 hour.
Add potatoes and continue simmering until potatoes are tender, about 1/2 hour.
Blend together flour and remaining 1/2 cup water; stir into meat mixture. Continue cooking and stirring until mixture thickens. Pour into 3 quart casserole.
Roll out pastry slightly larger than top of casserole. Place over meat mixture, and trim to overhang 1 inch. Fold under, and flute against inside edge of casserole. Cut several steam vents in center.
Bake at 425 degrees F (220 degrees C) until lightly browned, about 30 minutes.
No Ratings Yet
You may also like
Add Review