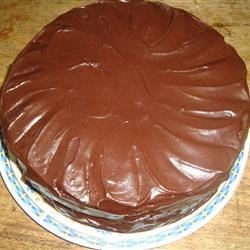 Categories / Desserts / Cakes / Sheet Cake
Ingredients
Directions
Preheat oven to 350 degrees F (175 degrees C). Grease and flour a 9x13 inch baking pan.
In a large bowl, combine sugar, flour and salt. Set aside.
In a small saucepan, bring 1 cup butter, water and 3 tablespoons cocoa to a boil. Remove from heat. Add to flour mixture and beat until smooth.
In a separate bowl, Mix sour cream, eggs, baking soda and cayenne pepper. Add to the cake batter. Blend well. Pour batter into 9x13 inch pan.
Bake at 350 degrees F (175 degrees C) for 20 to 30 minutes, or until toothpick inserted into center of cake comes out clean. Allow to cool.
For the Frosting: Melt 1/4 cup butter, add 1/3 cup cocoa. Add confectioners sugar, milk and vanilla. Mix until smooth and free of lumps.
Spread frosting on the cooled cake. Cut into squares and serve. Ask your company if they can guess what is in it, they never will.
3
average vote /
1
people vote.
You may also like
Add Review