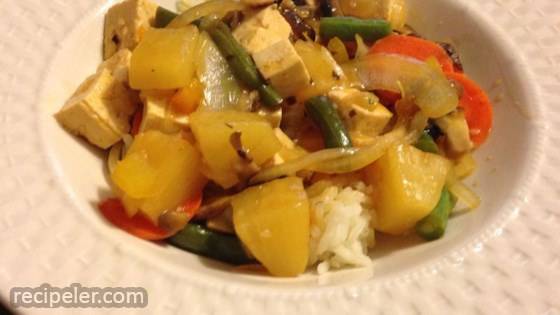 Categories / World Cuisine / Asian
Ingredients
Directions
In a medium saucepan bring 2 cups of the water to a boil over high heat. Add the rice, reduce the heat, and simmer until the rice is tender and water is absorbed, 30 to 40 minutes. Transfer to a serving platter and keep warm.
Remove excess water from the tofu, and then cut it into 1/2-inch cubes.
In a small bowl, whisk the pineapple juice, lemon juice, ketchup, maple syrup, tamari, sesame oil, arrowroot, and ginger together.
In a wok or large skillet, heat the vegetable oil over medium-high heat. Add the onion, carrot, green beans, bell pepper, mushrooms, and zucchini and stir-fry until tender, 3 to 5 minutes.
Add the pineapple juice mixture, tofu and pineapple. Cook, stirring often, until the sauce is thickened, about 2 minutes. Spoon the veggies and sauce over the brown rice and serve.
No Ratings Yet
You may also like
Add Review