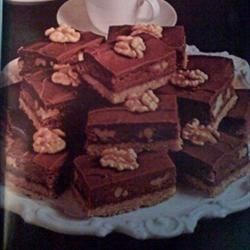 Categories / Desserts / Cookies / Brownies / Nut Brownies
Ingredients
Directions
Preheat oven to 350 degrees F(175 degrees C). Lightly grease an 11 x 7 1/2 inch baking pan.
In a medium bowl, stir together quick cooking oats, 1/2 cup flour, brown sugar, and baking soda. Stir melted butter into dry ingredients.
Pat evenly into the bottom of baking pan and bake in preheated oven for 10 minutes.
For the middle layer, cream together white sugar, butter, and 1 ounce of melted unsweetened chocolate. Add the egg to this mixture and cream well.
In a medium bowl, stir together 2/3 cup of flour, baking powder, and salt. Add dry ingredients to chocolate mixture alternately with a mixture of the milk and vanilla. Mix after each addition. Fold in the walnuts and spread evenly over baked layer.
Bake for 25 minutes more at 350 degrees F (175 degrees C ) then cool.
For frosting, melt together 2 tablespoons of butter and 1 ounce of unsweetened chocolate over medium heat. Remove from heat, and stir in 1 1/2 cups of confectioners sugar. Add vanilla last. Stir until frosting is smooth and pourable. Drizzle over the tops of the brownies for an elegant finish.
No Ratings Yet
You may also like
Add Review