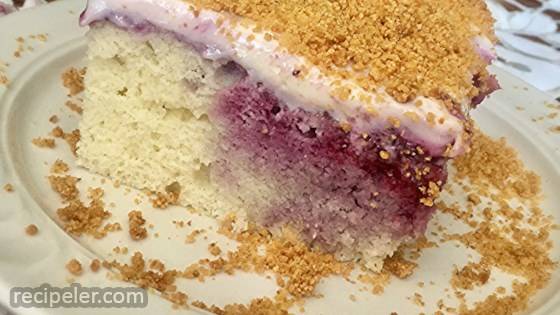 Prep Time: 5 h 27 m
Calories: 603 kcal
Print
Categories / Popcorn Balls / Indian
Ingredients
Directions
Preheat oven to 350 degrees F (175 degrees C). Spray a 9x13-inch baking dish with cooking spray and line with parchment paper.
Mix cake mix, 1 cup water, eggs, and vegetable oil in a stand mixer on low speed for 30 seconds. Increase speed to medium and mix for 2 minutes more. Pour batter into the prepared baking dish.
Bake in the preheated oven until cake is golden brown, about 25 minutes. Cool cake at room temperature for 10 minutes. Keep oven on.
Line a baking sheet with parchment paper.
Mix graham cracker crumbs and melted butter together in a bowl; spread onto the prepared baking sheet.
Bake graham cracker crumb mixture for 10 minutes. Cool to room temperature and store in an airtight container.
Mix strawberries, blackberries, raspberries, sugar, 1/3 cup water, and 2 tablespoons lemon juice together in a saucepan; bring to a boil. Reduce heat and simmer, stirring occasionally, until fruit is soft and easily mashed, 7 to 8 minutes. Mash berries together with a fork and cool for 5 minutes.
Poke 5 rows of 6 holes in the cake using the handle of a wooden spoon, creating 30 holes. Drizzle 1/3 cup sweetened condensed milk over the entire cake. Pour berry mixture over cake and spread using a spatula, ensuring berry mixture goes into the holes. Cover cake and refrigerate at least 1 hour.
Place cream cheese in the bowl of a stand mixer fitted with a whisk attachment; mix on high until very smooth, at least 3 minutes. Add the remaining sweetened condensed milk, 1/4 cup lemon juice, and sea salt; mix for 1 minute. Spread cream cheese mixture over the cooled cake. Cover and chill cake, 3 hours to overnight.
Slice into 12 large pieces and top each with graham cracker crumb mixture.
No Ratings Yet
You may also like
Add Review