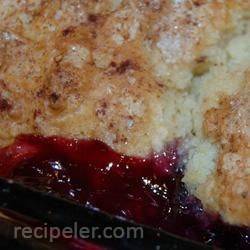 Ingredients
Directions
Lightly grease an 8 inch square baking dish. Place the blueberries into the baking dish, and mix with vanilla and lemon juice. Sprinkle with 1 cup of sugar and 1/2 teaspoon of flour, then stir in the tablespoon of melted butter. Set aside.
In a medium bowl, stir together 1 3/4 cups of flour, baking powder, and 6 tablespoons sugar. Rub in the 5 tablespoons butter using your fingers, or cut in with a pastry blender until it is in small pieces. Make a well in the center, and quickly stir in the milk. Mix just until moistened. You should have a very thick batter, or very wet dough. You may need to add a splash more milk. Cover, and let batter rest for 10 minutes.
Preheat the oven to 375 degrees F (190 degrees C). Spoon the batter over the blueberries, leaving only a few small holes for the berries to peek through. Mix together the cinnamon and 2 teaspoons sugar; sprinkle over the top.
Bake for 20 to 25 minutes in the preheated oven, or until the top is golden brown. A knife inserted into the topping should come out clean - of course there will be blueberry syrup on the knife. Let cool until just warm before serving. This can store in the refrigerator for 2 days.
No Ratings Yet
You may also like
Add Review