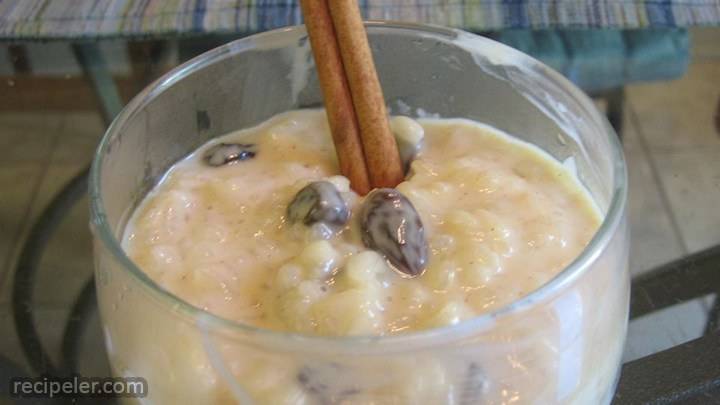 Ingredients
Directions
Combine 2 1/4 cups of water, rice, and lime peel in a saucepan. Bring to a boil over medium-high heat, then reduce heat to medium-low, cover, and simmer for 20 minutes until the rice is tender.
While the rice is cooking, combine 1/2 cup of water, the cinnamon stick, and anise in another saucepan over medium-high heat. Bring mixture to a low boil for 3 minutes, then remove saucepan from stove. Strain flavored water into a bowl and set aside, discarding cinnamon stick and anise pieces.
After rice has simmered for 20 minutes, carefully remove the lime peel with a slotted spoon, and over low heat, gradually stir evaporated milk and condensed milk into the rice. Mix in the cinnamon and anise-flavored water, vanilla, and salt. Add raisins, if desired. Continue to stir until the mixture thickens, about 7 to 10 minutes.
If the pudding is too watery after 10 minutes, turn up heat to medium-low and stir continuously. When pudding reaches desired consistency, remove from heat and pour into individual dishes, or a large bowl. Store in the refrigerator until ready to serve.
3.4
average vote /
5
people vote.
You may also like
Add Review