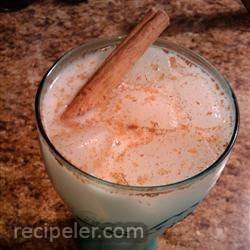 Ingredients
Directions
Place the rice in a bowl with enough water to cover it and let it soak overnight.
Strain the rice and discard the water. Stir the cold water and evaporated milk together. Place the drained rice into a blender along with half of the diluted milk. Blend until the rice is finely ground, about 30 seconds. Add the sugar, cinnamon, and vanilla; blend well. Pour in the remaining diluted milk; blend.
Line a strainer with two layers of cheesecloth. Place the strainer over another bowl to catch the liquid. Strain the rice milk through the cheesecloth, discard the solids. Repeat the process if necessary. Serve over ice.
No Ratings Yet
You may also like
Add Review