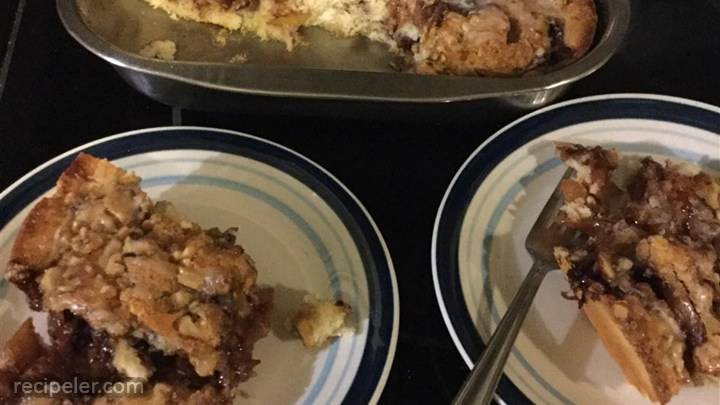 Ingredients
Directions
Preheat oven to 350 degrees F (175 degrees C). Grease a 9x13 pan.
Mix pie filling and cinnamon, set aside.
Beat flour, white sugar, milk, 1/2 cup softened butter, baking powder, salt and eggs in mixing bowl on low speed for 30 seconds. Beat on medium speed for 2 minutes.
Pour half of the batter into prepared pan. Spoon half of the pie filling over the batter. Spread remaining cake batter over pie filling, and top with the remaining half of the pie filling.
Mix brown sugar and nuts together and sprinkle over top of cake. Drizzle with 2 tablespoons melted butter.
Bake at 350 degrees F (175 degrees C) for 45 to 55 minutes. Allow cake to cool 20 minutes.
Combine confectioners sugar, 1 tablespoon butter, 3/4 teaspoon vanilla, 2 to 3 teaspoons hot water. Beat until smooth. Drizzle over cake.
No Ratings Yet
You may also like
Add Review