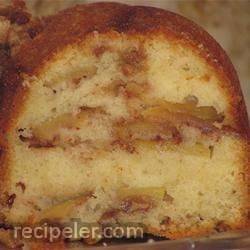 Ingredients
Directions
Preheat oven to 350 degrees F (175 degrees C). Spray an 8-inch square baking dish with cooking spray; dust with 1 tablespoon flour.
Beat 1/4 cup butter and 3/4 cup brown sugar together with an electric mixer in a large bowl until light and fluffy. The mixture should be noticeably lighter in color. Beat egg into butter mixture. Add sour cream, vanilla yogurt, and vanilla extract to the mixture; beat to integrate.
Stir 1 cup flour, 3/4 teaspoon cinnamon, baking soda, and salt together in a bowl; add to the butter mixture and beat to combine into a batter. Fold apples into the batter. Pour batter into prepared baking dish.
Mix 1/4 cup brown sugar, 1/4 cup flour, 2 tablespoons butter, and 1/2 teaspoon cinnamon together in a bowl using a fork to achieve a crumbly consistency; sprinkle over the top of the batter.
Bake in the preheated oven until a toothpick inserted into the center comes out clean, 35 to 40 minutes. Cool in the pan for 10 minutes before removing to cool completely on a wire rack.
No Ratings Yet
You may also like
Add Review