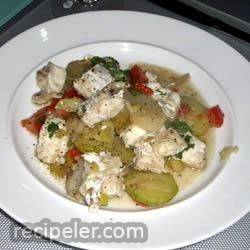 Ingredients
Directions
Preheat oven to 425 degrees F (220 degrees C). Lightly oil a shallow, 2 quart baking dish.
In a medium bowl, toss the potatoes with 2 tablespoons olive oil to coat evenly. Season with salt and pepper. Spread potatoes in baking dish with 1/4 cup water. Cover, and bake for 15 minutes.
Combine bell peppers, leek, zucchini, and celery in a medium bowl. Toss with garlic and 2 tablespoons olive oil,. Season to taste with salt and pepper. Spread vegetables over potatoes, add another 1/4 cup water, and cover. Bake for 10 to 15 minutes.
Rinse, and cut fish into 1 to 1 1/2 inch cubes, and spread over vegetables. Cover. Bake for 10 minutes, or until fish flakes easily. Serve with tomato and parsley or fennel garnish.
No Ratings Yet
You may also like
Add Review