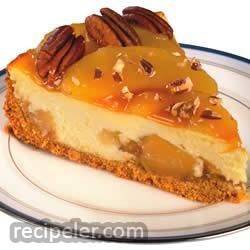 Ingredients
Directions
Preheat oven to 350 degrees F (175 degrees C). Reserve 3/4 cup of apple pie filling and set aside.
Spoon remaining pie filling into crust. In a large bowl, combine cream cheese, sugar and vanilla. Beat until smooth then add eggs and mix well. Pour over apple filling in crust.
Bake at 350 degrees F (175 degrees C) for 35 minutes, or until center is set. Remove from oven and cool to room temperature.
Mix reserved apple filling and caramel topping in a small saucepan. Heat for about 1 minute. Arrange apple slices around outside edge of cheesecake. Spread caramel sauce evenly over. Decorate with pecan halves around edge. Sprinkle with chopped pecans. Chill until ready to serve.
No Ratings Yet
You may also like
Add Review