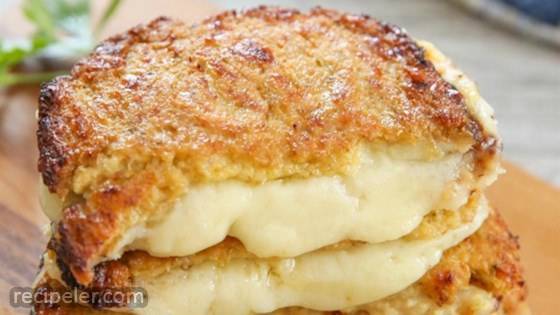 Prep Time: 50 m
Calories: 255 kcal
Print
Ingredients
Directions
Preheat oven to 450 degrees F (230 degrees C). Line a baking sheet with parchment paper or a silicone mat.
Place cauliflower florets in a food processor and pulse into crumbs about half the size of rice grains.
Place cauliflower into a large microwave-safe bowl. Microwave until soft and tender, about 2 minutes. Remove and stir. Microwave for 3 minutes. Remove and stir again so that all the grains cook evenly. Microwave until almost dry, about 5 minutes. Stir and microwave until cauliflower looks dry and clumped up, about 5 minutes.
Stir Parmesan cheese, egg, and seasoning into the cauliflower until a smooth paste forms. Divide mixture into 8 equal portions; transfer to the baking sheet. Pat into square 'bread' slices, about 1/2-inch thick, using your knuckles and fingers.
Bake in the preheated oven until slices are golden brown, 15 to 18 minutes. Let cool for a few minutes. Slide off the baking sheet carefully with a good spatula.
Place 1 slice of Cheddar cheese over 4 cauliflower bread slices. Top carefully with the other 4.
Place sandwiches into a toaster oven and broil until cheese is completely melted and bread is toasted, 5 to 10 minutes.
No Ratings Yet
You may also like
Add Review