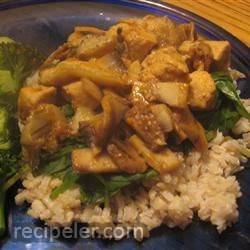 Categories / Meat And Poultry / Chicken / Chicken Breasts
Ingredients
Directions
Preheat oven to 375 degrees F (190 degrees C).
Sprinkle chicken with salt, pepper and paprika to taste. Melt butter or margarine in heavy skillet and brown chicken on all sides. Remove to covered 9x13 inch casserole.
Add mushrooms to pan drippings and saute. Add flour and gradually add stock or broth and sherry. Season with rosemary; deglaze skillet.
Arrange artichoke hearts among the chicken pieces and pour sauce over all. Cover and bake at 375 degrees F (190 degrees C) for 40 minutes or until tender.
No Ratings Yet
You may also like
Add Review