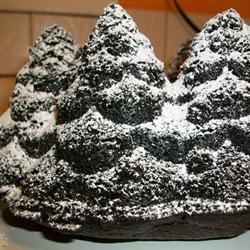 Categories / Desserts / Cakes / Chocolate Cake
Ingredients
Directions
Preheat oven to 350 degrees F (175 degrees C). Grease and flour two 9 inch cake pans.
Sift together the flour, baking soda, salt, 1 cup white sugar, and 1/2 cup cocoa. Add mayonnaise, 1 teaspoon vanilla, and water. Beat with and electric mixer on medium speed for 3 to 4 minutes. Pour batter into prepared pans.
Bake at 350 degrees F (175 degrees C) for 25 minutes. Turn oven off, remove cake layers and allow to cool for 10 minutes in pans. Invert 1 layer onto a serving plate and the other layer onto a cooling rack. Top layer on plate with enough unwrapped mints to fully cover top. Return cake to oven for 3 to 5 minutes to soften chocolate mints, then spread evenly with a spatula. Top with second cake layer and allow to cool before frosting.
To Make Fudge Frosting: Combine 6 tablespoons cocoa, 2 cups white sugar, 2/3 cup milk, 1/2 cup butter, and a pinch of salt in a saucepan over medium high heat. Stirring constantly bring mixture to a boil and reduce heat to low, allowing mixture to boil gently for 3 minutes without stirring.
Remove from heat and let cool for 3 minutes before beating in 1 teaspoon vanilla extract. Beat with an electric mixer until just barely thick enough to spread without running off the cake. Spread over top of cooled cake.
No Ratings Yet
You may also like
Add Review